Comcast Details Ad-Supported Peacock Streaming Service
https://www.cdrinfo.com/d7/content/comc ... ng-service
---
---
Could HDR10+ Be a Better Tone Mapper than Dolby Vision?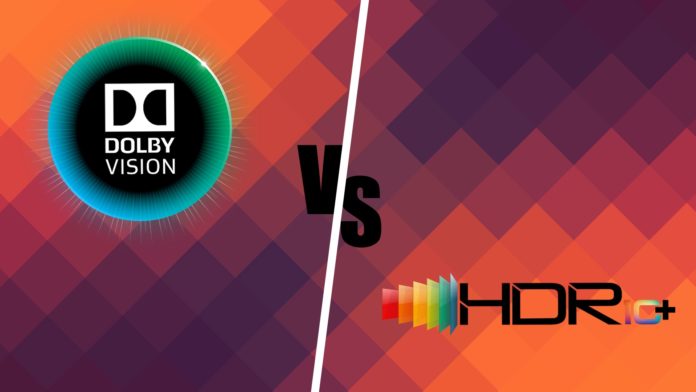 https://www.displaydaily.com/article/di ... lby-vision
Almost from the beginning, Samsung's HDR10+ initiative met with skepticism, doubt, and scorn, mostly of the "you can't make a silk purse out of a sow's ear" sort, but also because of Samsung's history of bludgeoning accepted industry terminology and technology with its marketing clout. (Remember "LED TV" and "QLED"?) But... But...

In the invitation-only Samsung Innovation Room at CES, company representatives and partners directly compared a 1000-peak-nit signal running on a high-end QLED set with the same signal tone-mapped to two mid-range TVs, one running Dolby Vision and one running HDR10+. Both systems brought the 1000-nit peaks down to maximum luminance of the lesser sets, but under the ambient illumination in the Innovation Room and on the material Samsung had chosen to show us, HDR10+ generally did generally show more detail in the tone-mapped images.

Florian Friedrich (CEO, FF Pictures GmbH, and Chair of ICDM's HDR Subcommitee), who is a respected TV image quality expert as well as a long-time Samsung collaborator, said the difference stems from HDR10+ using 10-point Bezier curves in its EOTF instead of the 3-point S curves used by Dolby Vision since the Bezier curves allow a more refined mapping of signal to luminance.

I was impressed. Of course it's possible that Dolby could select material that would make Dolby Vision look better than HDR10+, and I would like to see that demonstration. But Samsung made an effective case that HDR10+ is competitive with Dolby Vision, and might even be the better tone mapper.
---
---
Disney Drops Fox Name, Will Rebrand as 20th Century Studios, Searchlight Pictures
https://variety.com/2020/film/news/disn ... 203470349/
---
---
Tableau Multi-HDR mis à jour : ajout de "Worldwide" SVoD (i.e. services de vidéo à la demande par abonnement présents dans le monde entier)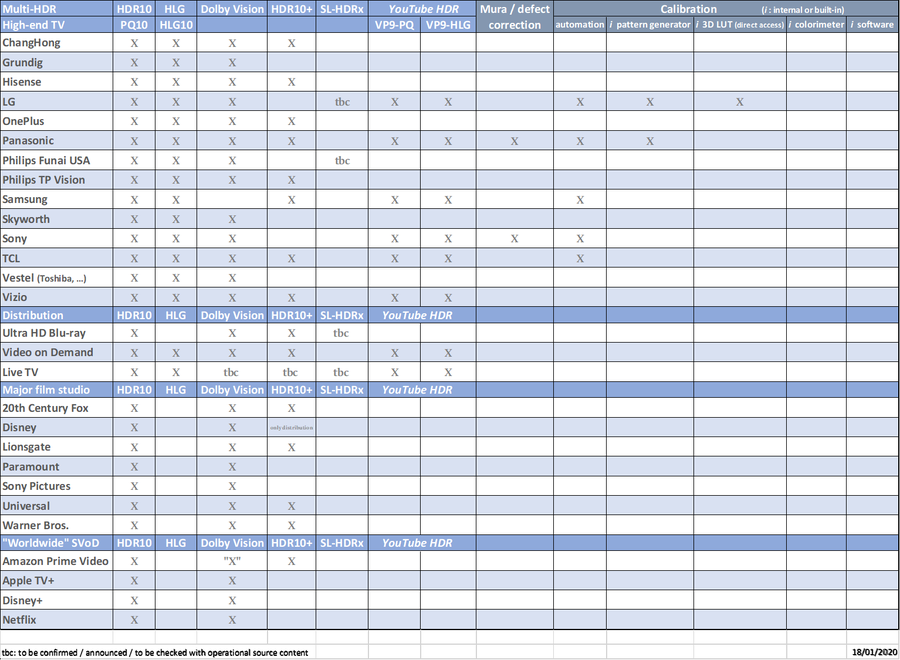 . Amazon Prime Video
https://www.primevideo.com/
https://www.senscritique.com/liste/Les_ ... eo/2160236
https://www.justwatch.com/fr/plateforme ... rime-video
https://hd-report.com/list-of-4k-ultra- ... zon-video/
https://www.homecinema-fr.com/forum/oe- ... 77298.html
. Apple TV+
https://www.apple.com/fr/apple-tv-plus/
https://www.finder.com/apple-tv-plus-full-list
https://www.homecinema-fr.com/forum/oe- ... 95231.html
. Disney+
https://preview.disneyplus.com/fr
https://www.numerama.com/pop-culture/48 ... tflix.html
https://hd-report.com/list-of-movies-tv ... on-disney/
https://www.finder.com/ca/list-disney-p ... uhd-movies
https://www.homecinema-fr.com/forum/oe- ... 91369.html
. Netflix
https://www.netflix.com/fr/
https://www.surnetflix.fr/netflix-ultrahd-4k
https://hd-report.com/list-of-4k-ultra- ... n-netflix/
https://www.highdefdigest.com/news/show ... tmos/42751
https://www.homecinema-fr.com/forum/oe- ... 46870.html
Ampli vidéo/audio universel (Dolby Atmos, DTS:X, ...) : acquis
TV HDR universel (HDR10, Dolby Vision, YouTube HDR, HLG, Dynamic HDR) : possible
Agir pour le TV HDR universel !
---
WiSA Fuels the Growing Wireless Audio Category; CES Showcase Highlights the Future of Home Entertainment
https://www.wisaassociation.org/wisa-fu ... -category/
https://www.wisaassociation.org
---
phil59

a écrit :

↑

07 janvier 2020, 13:57

DOLBY VISION IQ - Trademark Details

https://trademarks.justia.com/886/24/do ... 24540.html
SURROUND AMBIENT LIGHT SENSING, PROCESSING AND ADJUSTMENT
https://patents.justia.com/patent/20190378327
---
---